Billy Panda  /  joined The Ship at inception in 1971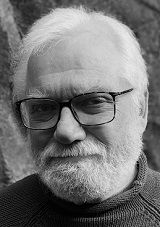 Grew up (although that's debatable) in Crystal Lake, Illinois; currently living in Portland, Oregon. 
Music Education major at the U of I; active with The Ship from 1971-1977, appearing on all their recordings performing vocals, guitars, pedal steel, banjo, synth, and whatever else happened to be lying around the studio. 
After The Ship: (1977-1980) Broadcast producer, guitarist, and recording engineer at Ackerman/McQueen advertising agency in Oklahoma City; (1980-1992) Studio musician and avid Cubs fan in Chicago; (1992-2019)  Studio musician, songwriter, and producer in Nashville.
Married 36 years with one daughter but no grandchildren yet unless cats count.  Now retired but making music virtually with friends most every day from the confines of Studio P, a well-equipped second floor bedroom.  Life is good.